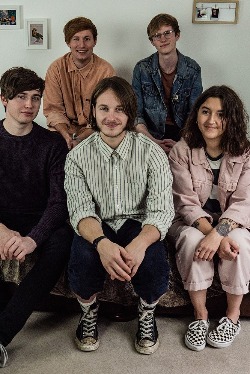 The band kicked off 2020 with the release of their debut EP 'Say Something' and managed to sneak in a 10-date tour in February just before coronavirus struck. Despite missing out on several major festival opportunities including a BBC Introducing slot at the Great Escape Festival, Sarpa Salpa continued to grow against the odds with the release of the disco tinged 'Forwards Backwards' and indie banger 'Stick to What You Know' scoring them a slot at BBC Radio 1's Big Weekend virtual festival.
The singles continued Sarpa Salpa's run of radio success with extensive support from BBC Introducing, Radio X & BBC 6 Music as well as particular support from BBC Radio 1's Jack Saunders giving the band 2 'Next Wave' features and crowning 'Forwards Backwards' track his Tune of the Week in June, consistently playing the band on his show for 12 weeks straight. This national radio exposure attracted the attention of the Student Radio Association who added both tracks to their curated Spotify "Student's Union" & Deezer "Campus Sounds" playlists in addition to their official playlist for over 100 University radio stations around the UK.
The SRA further showed their support for the band placing them in their 'Student Radio Association Class of 2021' indicating their continued support over the coming year on the huge network of student radio stations alongside the likes of Inhaler / Martha Gunn / Arlo Parks / Kenny Hoopla & Buzzard Buzzard Buzzard. Sarpa Salpa ended the year on a high in the form of a grant from the PPL Momentum Music Fund in December.
This grant, supported by PRS Foundation, PPL, Spotify UK, Creative Wales, and Arts Council Northern Ireland has enabled the band to continue to progress by funding the recording, mixing, mastering, and promotion of their sophomore EP. Additionally, this funding will back the release of the EP on vinyl and help the band promote the release through a series of live dates in 2021 both socially distanced and hopefully as regular gigs towards the end of the year.
_________________
Songs we featured :
August 09, 2019 : Before It Goes Dark
January 03, 2020 : Say Something
May 15, 2020 : Forwards Backwards