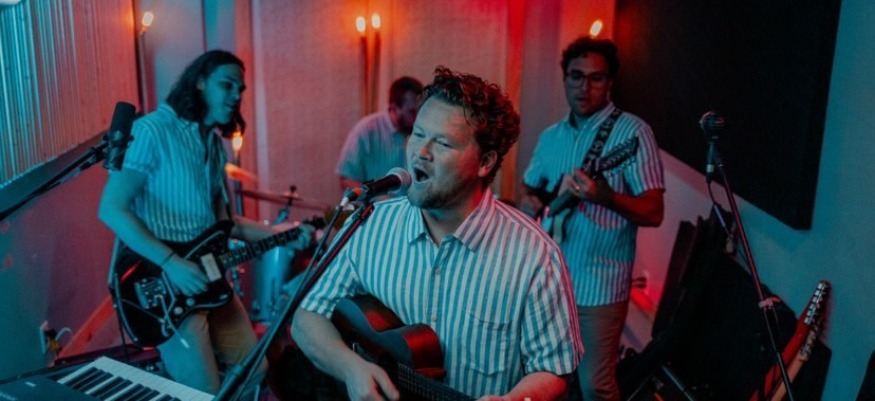 July 16, 2021
I've been following the adventures of Ryan Poole and Nite Tides for quite a while now. I was blown away by "Your Window", which was our first article of the year.
"Dizzy Dreamer" therefore marks the return of Nite Tides, with still this same fascinating musical universe, between dream pop and surf rock, and these magnificent vocal harmonies.
Ryan is an excellent producer who doesn't hesitate to push the production down to the smallest detail ... until it is perfect. I often refer to him in my articles because he remains a role model for me to follow. If you have any production gaps, his videos posted on Instagram about BTS from "Your Window" will probably be of great help.
"Dizzy Dreamer" retains this unique signature, with a warm and perfect melody to make it a summer anthem. As soon as you hear Nite Tides, you immediately think of the scorching sun and the paradisiacal beaches of California.
And at Nite Tides, there is always that Beatles side that I love. As if a part of the sixties were still present in 2021. As if nothing had changed, and as if nothing had happened in 2020. We are free. So we can enjoy this little gem.
Added to our Main Spotify Playlist, our "Road Trip" playlist, and played daily on Indie Music Center's Radio.
Written by Niko.
_________________
Lyrics
Oh Oh Overload, the world just won't stop turning
Uh oh, vertigo, too high to come down so just
Try and let it slide, do you remember last July?
Oh, swinging' in the summer haze
Spinning on and on forever
dreamin we'd get better come what may
Dizzy Dreamer, just a kid caught in between
Who I am and who I long to be
Dizzy Dreamer, you might call it fantasy, but
Everyone's got someone they long to be
Just please don't lose your faith in me
Oh oh overload, but I refuse to come down
Once I held you close, but you're a stranger right now
I try to let slide, cuz I remember last July
Oh, spinning in the evening sway,
Running circles round the morning
Dancing late into September's golden rays
Dizzy Dreamer, just a kid caught in between
Who I am and who I long to be
Dizzy Dreamer, you might call it fantasy, but
Everyone's got someone they long to be
Just please don't lose your faith in me
Just please don't lose your faith in me
So I Slide into an endless sky
echo inside your mind
and remember how it felt to
Fly, don't let me fade away
Baby, I'm worth the pain
But I'm never coming down
Never coming down
Dizzy Dreamer, just a kid caught in between
Who I am and who I long to be
Dizzy Dreamer, you might call it fantasy, but
Everyone's got someone they long to
Just please don't lose your faith in me
Just please don't lose your faith in me
Just please don't lose your faith in me
_________________
To stay aware of new releases, follow Indie Music Center :
See also