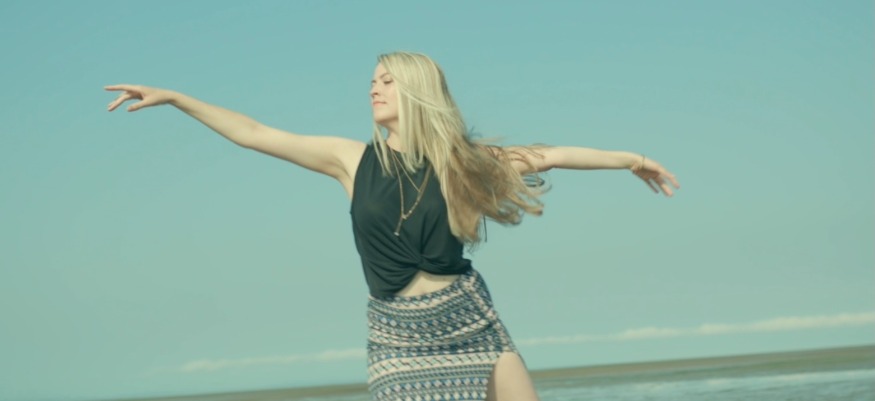 September 06, 2021
I don't think I can thank Jacqueline Loor enough for allowing me to discover Marina Bennett a few months ago. Because it is much more than an artist, that I discovered!
Marina is first of all a person of incredible generosity. She gives a lot of time to her community on social media, which follows her in her daily life and encourages her to give even more.
Because yes, the power of a community is enormous, we were able to see it last week thanks to this incredible Raid Train on Twitch which allowed us to save our radio station.
Marina has this unifying power, and it is much stronger than she might imagine. The artist had amazed us in March with the pretty acoustic ballad "Alright", all smooth and delicate.
Then, she made us dance at the beginning of the summer thanks to her great collab with Drew Henmi "Another Way to Fly".
And now she's back with a new single that got us high. His new single "Til the End" is timely for this new school year. Because we all need positive energy to resume our activities after a few weeks of well-deserved rest. But you have to go slowly!
So this new single is the perfect opportunity to reconnect with reality without pushing our brains too hard. And also the opportunity for Marina to show that she is at ease in all musical universes.
Marina doesn't do things by halves. That's why she accompanied the song with a wonderful music video. If you already miss the beach, here is the opportunity to return:
Much more electronic than the two previous singles, "Til The End" is an electro-pop gem full of lightness, light, and relaxing vibes.
With even a background of R'n'B tones, Marina seduced us in less than a minute with her calm voice and her undeniable mastery of emotions. And at a time when we are all resuming our usual activities, the song helps to project on a potential budding love and all the chaos that goes with it.
What will happen to us? Are we going to be hurt again? Are we ready for this? These are the questions the artist tries to answer in this new single that will not leave you indifferent.
We always say that an artist who manages to speak to us like a friend would is an artist who conquered us. This is definitely the case with Marina, who, each time, succeeded in taking us into her musical universe, even if it is different for each song.
In fact, you can't really hear Marina singing. In any case, not only. You can feel it! You can feel whatever she feels, just through her voice.
At first glance, a few years ago, I could have said that "Til the End" is not my cup of tea. But our growing community has opened my ears to so much novelty, new musical trends, that almost any genre is becoming irresistible. Especially when they are sublimated by queens of emotions like Marina.
This gem has been added to our "Fresh Indie" Spotify playlist, make sure you follow this playlist below to discover incredible new music every day.
Written by Niko.
_________________
To stay aware of new releases, follow Indie Music Center :