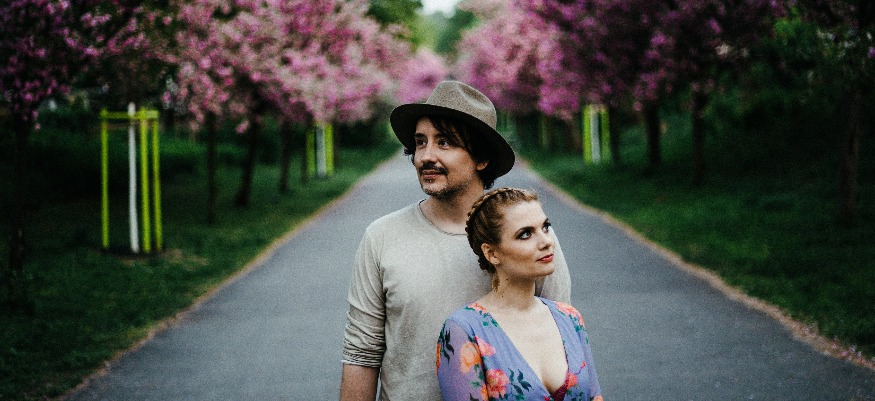 01 juin 2018
[English version below*]
On ne sait pas pourquoi, mais il semblerait que l'on ait un bon feeling avec les duos allemands. Après Hannah & Falco qui nous avaient charmés en janvier, place à Mrs. Greenbird, venus de Cologne, et composé de Sarah Nücken et Steffen Brückner. Si vous étiez à la recherche de la ballade parfaite pour votre été, on a trouvé! Mettez votre plus belle robe (allez, soyons gentils : votre plus beau short pour les garçons), et direction le jardin! Dans un univers très fleuri, le duo nous offre une prestation naturelle, sans artifices, et authentique. La voix de Sarah est aigue, ce qui est assez rare dans le monde de la chanson, mais là où d'autres pourraient vite devenir insupportable, cette voix aigue est incroyablement douce, innocente, et apaisante. Les harmonies vocales avec Steffen sont magnifiques. Le duo s'accorde parfaitement et nous fait adhérer à son univers dès les premières secondes. Le texte est divinement bien écrit et parlera à tout le monde. Pour une sortie le 1er juin, le titre de la chanson est parfaitement adapté. Disponible sur Spotify et iTunes, et inclus dans notre playlist "In Love" sur Spotify.
---------------------
We don't really know why, but it seems that we have a good feeling with German duets. After Hannah & Falco who had charmed us in January, it's time for Mrs. Greenbird, from Köln, composed of Sarah Nücken and Steffen Brückner. If you were looking for the perfect ballad for your summer, you found it! Put on your most beautiful dress (come on, let's be kind: your best shorts for boys), and head for the garden! In a universe full of flowers, the duo offers us a natural performance, without artifice, which sounds very authentic. Sarah's voice is acute, which is quite rare in the music industry, but where others could quickly become unbearable, this high-pitched voice is incredibly sweet, innocent, and soothing. The vocal harmonies with Steffen are magnificent. The duo works perfectly and makes us adhere to their universe from the first seconds. The text is divinely well written and will speak to everyone. For a release on June 1, the song's title is perfectly adapted. Available on Spotify and iTunes, and included in our "In Love" playlist on Spotify.
*Please note we're French. And English is not our native language so the translation may contain some language mistakes. We provide a translation to help bands & musicians to understand what we wrote about them, but most of our readers are French.
Sur le même sujet