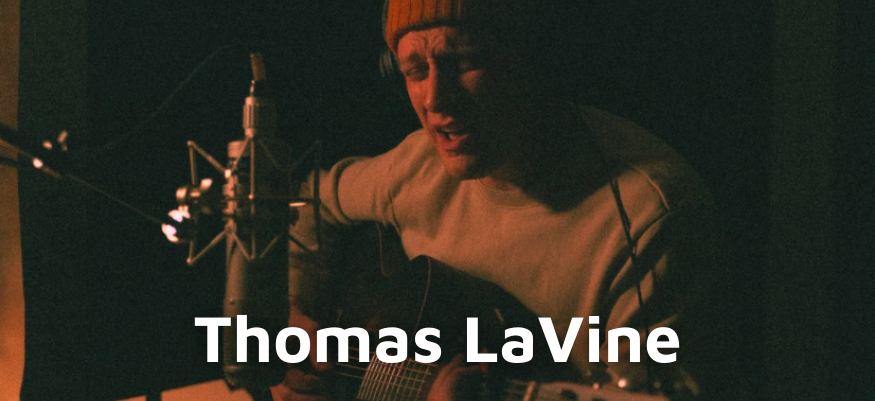 March 04, 2022
Here is the third song from Thomas Lavine's "Everwood" EP, set to be released in May. And yet another marvel from the North Carolina artist to celebrate his 10th review on IMC.

I think I will never be able to forget the day of December 11, 2021. This day when Thomas did me the honor of giving me an early listen to the whole EP. It was a live feedback session, and I absolutely loved this experience. Especially when 5 masterpieces follow one another that leave your mouth wide open.

"Staring At The Sky" is just the kind of song I created IMC for. These songs that can give you goosebumps from the first seconds. These songs you know you're going to introduce to your fans just by listening to the intro. Trust me, these songs are rare. Goosebumps in 3 seconds is not an easy thing to create, for an artist. But Thomas LaVine is starting to become a real professional in this art!

This new single opens with an intro that mixes piano and acoustic guitar. This is already a very good sign, because they are generally the most appreciated instruments by the human ear. When used intelligently, their emotional potential is huge. But Thomas' talent does not only lie in the conception of incredible melodies that make you dream, he is also an excellent writer. "Locked my heart inside the night" is probably my favorite line. The artist juggles with words with mad talent, and amazes us with an absolutely gripping chorus.

I didn't expect so high vocals in the chorus, but they are perfectly mastered. The original Thomas has disappeared. Whoever doubted his vocal talents realizes how powerful his vocal organ is. And now he uses it without any limits and without fear of criticism. Dang, I love that. And I'm so proud of what he's slowly becoming.

The song offers a double journey: close your eyes and here you are, in the forest, or on top of the mountain. You can also have the same feeling when watching the lyric video below!
But it's also an introspective journey because Thomas' connection to nature is what makes him who he is today. I wouldn't say "is what keeps him alive" cause he's also a lucky Dad and husband. The artist who made us laugh without wanting it with songs that spoke only of water now offers us an exceptional journey to the land of trees, which he calls his Heaven.
And by the way, there's a clever wink to his song "By the Coast" in this one. I don't even know if this was intentional. But you can compare those lines to get the idea:
"Swallow the sky, hold back the tides forever" (Staring At The Sky)
"Until the ocean tides rise and swallow the sky" (By the Coast)
Seems like Thomas is not ready to get rid of his "Waterboy" nickname, uh?

Get ready now to welcome the "Everwood" EP. Because when you can listen to these 5 songs together in the same place, you will realize that Thomas LaVine is one of the best artists of his generation. After all, we are only passing through this Earth, for a few decades. But we can only thank the universe for putting people like Thomas LaVine on our path. Man, if you read this, please be aware that you are the reason why you're reading this.

Yes, guys, IMC was created to give you goosebumps. Having been one of the first outlets to set our sights on Thomas two years ago, we have no regrets. We are even impressed. Because I think this guy has gone beyond the concept of musical goosebumps. Nothing can stop him. Let's rejoice. Amen.
Reach out to Thomas LaVine
_________________
Written with love by Niko. "Staring At The Sky" has been added to our "Indie Music" and "IMC Family" playlists on Spotify.