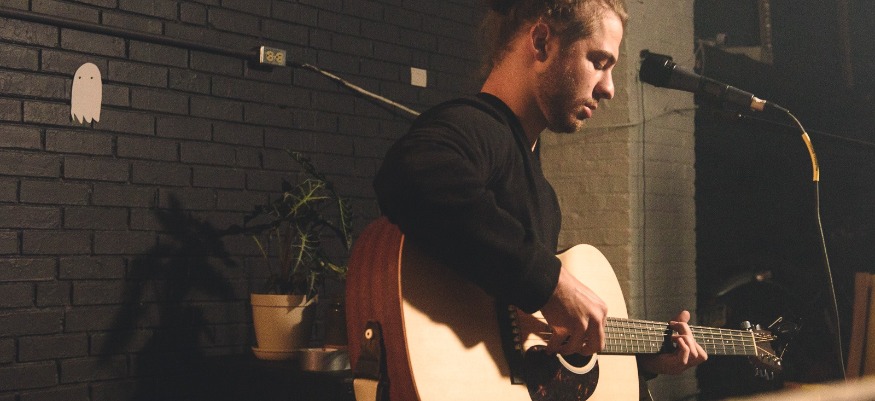 July 23, 2021
I think it's quite rare that you are presented with the acoustic version of a song when you've already written about the original version.
But we've already done it twice for Kahone Concept, and it was inevitable that we miss the acoustic version of "Hylow". The original song, released on January 8 (yes, I remember the date very well, as I had been eagerly awaiting the release for months), had already blown us away. But the acoustic version gives us a new perspective.
Completely reworked, this version has seen some instrumental passages disappear in favor of a slightly slower tempo. And unwittingly, Ben Orrvick (the crazy guy behind the name "Kahone Concept") recorded the song a little higher than the original version. Suffice to say that the very long note in the final part must not have been easy. to reach.
More intimate and more refined, this version was an opportunity for our artist from Pittsburgh to experiment. Sometimes he reminds me a bit of the mad scientist in "Back to the Future". I sometimes close my eyes, and imagine him in his studio (very well set up, by the way), trying out different combinations of instruments until I find the right one.
Because yes, if you don't know Kahone Concept yet, you might think, if you watch its videos on social media, that it's just a freak doing anything. But if you dig a little deeper, you're going to find one of the most creative geniuses of all time.
Added to our Main Spotify Playlist, our "IMC Family" playlist, and played daily on Indie Music Center's Radio.
Written by Niko.
_________________
Lyrics
I'm separated
It's how my mind goes
Like the edge of a wall to my elbow
Step away outside
From myself and I
Lacking sense of what's a lie
Carefully, carefully
What will you do?
Is it high?
Is it low?
Or is it something in between or in a hole?
I'm complicated
It's kinda old school
Looking at your world through an eye hole
It's hard to say
Because I don't know why
Carefully, carefully
What am I to do?
Is it high?
Is it low?
Or is it something in between or in a hole?
And is it faith
That keeps us clean?
Or is it human nature to do our good deeds?
Is it high?
Is it high?
After all
Things were made to change
I'm at the corner of
Conflicted and afraid
Can I beliеve it all?
This world was made to die
Could you bеlieve it to be?
_________________
To stay aware of new releases, follow Indie Music Center :