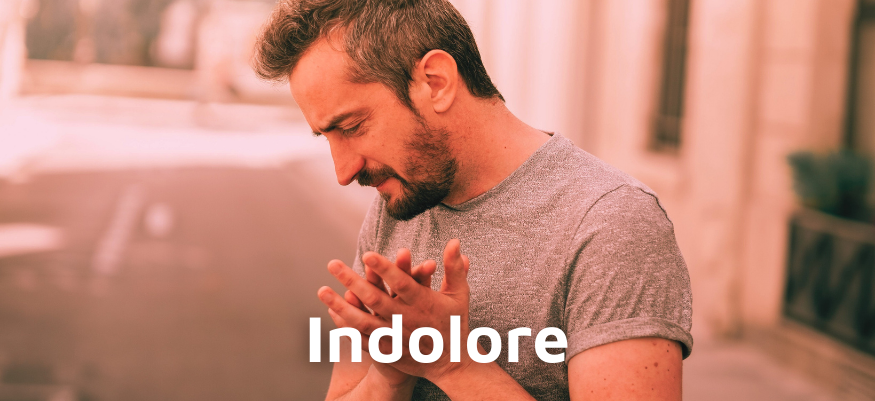 February 09, 2022
This is the third time for Indolore on IMC. We have been following this French artist closely for 4 years now. Suffice to say that we are starting to know him rather well. But this is the first time that we cover one of his songs in French. So you can trust us if we do it, it's because it's really worth it!

"Danser le soir", which means "Dance at night" is a song with very marked Japanese influences. What begins as a ballad turns out to be a super catchy bomb that will make you want to dance too (and not just in the evening). The arrangement creates a floating feel that lifts the vocals up and allows them to shine. The song starts with a gentle guitar that reminds me of "Blackbirds" by Paperwing.

The song slowly builds with tasteful percussions, light drums, and gorgeous harmonies. When you combine beautiful guitar playing with an amazing voice and meaningful lyrics you get a stunning and danceable song. And that's exactly what "Danser le soir", the latest release by Indolore is. It pulls you into its narrative with gentle honesty just to take you on a cathartic journey of great emotional intensity. The song builds slowly until the electric guitar comes in and uplifts it all. You can't help but leave your chair and start dancing.

Not only does this song show his incredible talent and artistry, but it also furthers the intimacy of the track. "Danser le soir" introduces us to Indolore's musical universe with wonderful lyrics, stunning vocals, and a tasteful arrangement. And cerise sur le gâteau, the wonderful music video shot in Paris perfectly fits the spirit of the song.

The last part of the track is absolutely amazing, it's like the music itself is actually dancing, and you can only feel the flow. With very positive lyrics, like "I wanna keep hope and be your lighthouse", you will probably get a smile upon your face without even realizing it. Speaking of a lighthouse, even if the song talk about night stuff and the music video has been shot by night, it has the amazing power to brighten your day.

It feels like traveling from one continent to another, and the trip goes by at breakneck speed. And when the song stops, we realize that the trip lasted less than three minutes. And you know what that means. When it seems too short, it's a pretty good sign.

Opening for Sia and Morcheeba, playing on stage at SXSW festival in Austin (Texas), Indolore already has extensive stage experience with well-filled audiences. Also worth knowing that he recorded his album "Love Letters from Eylenda", in Iceland, in Sigur Rós' studio. Yes, you got it Indolore already has a foot at the right place, with the right people.

The artist matures over the years and we can't wait to hear what he'll create next.

Oh, I forgot, if you need any help to understand the lyrics, feel free to ask! And if you're in the UK, don't miss Indolore on tour: March, 12: Folkestone / March, 14: Brighton / March,16: Beckenham / May, 5: London. You can grab your ticket here.
Reach out to INDOLORE
_________________
Written with love by Niko. "Danser Le Soir" has been added to our "Fresh Indie" playlist on Spotify and will start to play on the radio.