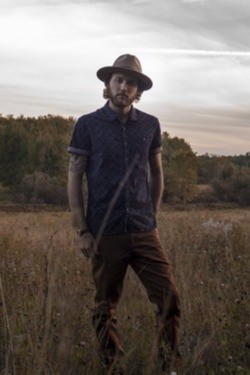 Genesis Ritchot is a Canadian indie-folk singer-songwriter who composes songs with impressive lyrical content and harmonious, catchy melodies, sometimes folky and tender, sometimes haunting, rocking and powerful.
Genesis. One immediately stumbles upon his name. His parents are avid fans of the music group Genesis and named their son after this world-famous band. Now, however, they're even bigger fans and supporters of their son. With his numerous singles and his two successful albums, 2019's Simple Complications and 2020s Three Quiet Hands, he has proven that he has the stamina and ambition to consistently pursue his music, one of his most important goals in life, in addition to his professional work as a math high school teacher.
He grew up with two siblings. He shares a love for music with his younger brother Yanny Ritchot, who's also a songwriter and musician. On his latest album, they collaborated on the song Archer, which Yanny wrote and which also reveals Yanny's talent and gives hope for more music from him.
Genesis' lyrics are tasteful arrangements and comprehensible emotional songwriting. He tells us in his diverse songs his life experiences and desires of his young life. Despite his consistently very positive and optimistic attitude towards life, he's also adept at blending in his doubts, insecurities, and fears in his songs when they arise. With the help of music, Genesis is able to process his emotions and be his best self.