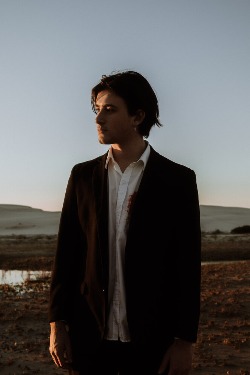 Through a string of releases over the last 2 years, Sydney singer-songwriter Chris Lanzon has amassed over 10 million streams and an expanding online community. Writing & producing music in his makeshift home studio has cultivated a distinct sound that is expanding with each release; with influences spanning Bon Iver to Radiohead, Elliott Smith to Nirvana, Frank Ocean to Phoebe Bridgers. Chris's style will immediately draw you in with its fusion of warm vulnerability, sonic experimentation, and reflective lyricism.
The 21-year-old took the time to explore his sound and identity after cutting his teeth in his early teen years - including being a finalist in a television music competition at age 13 - then writing, recording & touring in a pop band from ages 15-17. Learning from the turbulence of these experiences, Chris stepped out of the limelight to reconnect with his roots, develop his craft, and focus on creating music that felt true to him. This led to the inception of his solo debut in 2020.
The EP & short film project 'Melancholy' was released independently; a coming-of-age story of growth, heartbreak, healing, hope and self-discovery. Without any editorial playlists or marketing support, Melancholy found its audience in an organic and meaningful way. Chris went on to release singles Everest & New York, Falling Apart which expanded his unique indie-pop sound and teased what was to come for the following year. Maintaining the momentum through 2021, his breakthrough cover of 'spotify.com/album/0KHBDJ5HDWX994kkG1yCCF?si=7Uh3glkhRhKSUTB8QviVoA" style="color: rgb(157, 129, 137);">Iris' introduced thousands of new listeners to his world through its viral success on TikTok, YouTube and Spotify. He released his sophomore EP Far From Perfect, and is now putting the finishing touches on his third EP project, which will not only build out the Chris Lanzon universe,in completing the 'Melancholy Trilogy', but also take his sound to new heights, and prove he's here to stay.
_________________
IMC Features: